Animations, demos and rentals
The whole team of Realite-Virtuelle.Com offers to you animations made to measure for your seminars, shows and events! Whether you are, we intervene in International to present to you the best virtual reality headsets bringing to market.
Realite-Virtuelle.com is the first media about VR & AR in France with more than 500 000 Unique Visitors / month.
6 reasons to choose our animations
1 – Because it gives you the Wow effect!
2 – Because it embodies the future!
3 – Because it is quite difficult to try a headset or to get one!
4 – Because virtual reality headsets, including the Oculus CV1, are bringing high-quality experiences to you!
5 – Because the price for this amazing experience is extremely reasonable.
6 – Whether the available content is original or playful, it is infinite and intended for people of all ages!
A HIGH-QUALITY SERVICE DELIVERED BY EXPERTS
The whole team of Oculus-Rift.fr keeps regularly a close watch on virtual reality headsets and applications. We have tested all VR headsets putting on the market and we know how to use it perfectly. By choosing Oculus-Rift.fr, the quality of your service is ensured !
A SERVICE MADE TO MEASURE
The team behind Oculus-Rift.fr does the best it can to adapt to your needs. We offer animations made to measure whether you just want to rent an Oculus headset (to rent VR headset) or you want the complete animation package which includes an organizer, a VR headset, a pc gaming, headphones and accessories.
DES TARIFS FLEXIBLES FLEXIBLE PRICES
Our prices are flexible. We adapt it to your needs and we always give the best offer available. Prices are also decreasing gradually according to the number of headsets and / or days of animations.
ORGANIZATION AND FAST HIGH-QUALITY ARRANGEMENT
We guarantee a maximum availability. Our knowledge allows us to have a very fast organization of the animation. Our expertise provide us an installation as well as a high-quality arrangement in record time.
THEY TRUST US
REQUEST FOR AN ESTIMATE OCULUS RIFT CV1
Give us all the information of your request : date, place, budget, numbers of headset … We will garante you an answer in less the H24 !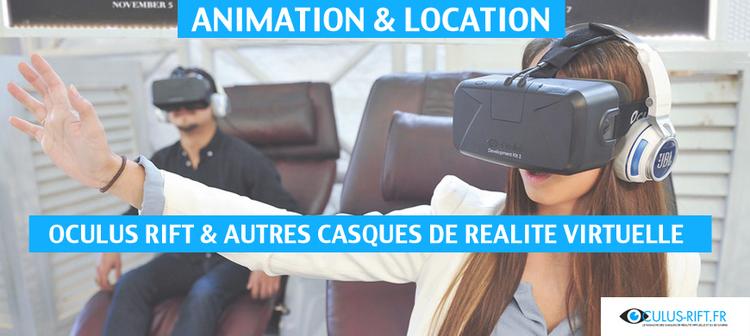 Needs for your events ? Discover « connected objects event » ou HTC Vive headset event.
Votre avis sur l'animation ? [ratings]